Summary: Largs to Rhu. 23.6 miles in 4 hours and 10 minutes. A varied passage – winds between Force 0 and 6 and the weather everything from cloudy to full sun.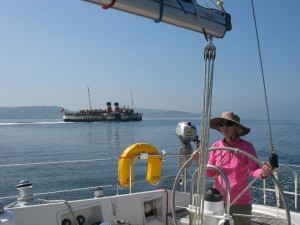 To split the journey back from Lamlash, we headed back to Rhu via Largs, so this morning we set off from Largs to head back to Rhu again and then on to home. Having had quite a reasonable breeze overnight, the wind was completely dead first thing in the morning when we left at 9am. However, within minutes of getting out of the marina, a nice breeze sprung up and gradually built to a F5 gusting 6 directly on the nose. With 2 rolls in the jib and full main we were going nicely, though we did need to put in about 4 tacks to get up to Cloch Point (which we have renamed Amazon point after the huge Amazon distribution centre just round the point!).
We (well I!) was looking forward to getting round the point and cracking off on a close reach for Rhu. However, right on cue, as we headed round the point the wind headed us and then gradually died. After dicing with the Dunoon-Gourock ferries and tacking through the moorings in the bay, we finally gave up as the wind died completely and on went the engine to motor the rest of the way back.
On the way back the Waverley came close past coming out of Rhu. We picked up our mooring for lunch and then moved the boat back into our usual berth in the marina.