In the late 1980s Sadler Yachts went into receivership shortly after producing the Barracuda (made famous, or infamous by the programme Howards Way). The assets of the company were bought by two businessmen and the first new boat they produced was the Starlight 39. She was conceived as a fast cruising boat that could be raced but could also be easily cruised short-handed. The designer was Stephen Jones. Thirty-four of the Starlight 39 were produced between 1990 and 1994, but they rapidly followed the 39 with a 35 foot version. About 50 of these were built in the early 1990s.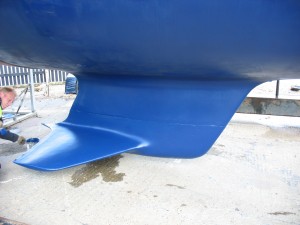 Most of the Starlight 39s have a wing keel. This is generally considered to make them very stable with an excellent performance to windward. The wing creates lift to windward as well as giving an excellent righting moment for a relatively low draft of 5'3″ – perfect for the East Coast where Charmary is based. The wing keel does have the disadvantage of making it more difficult to get off when you run aground – heeling is not an option! However, she will dry out upright on the wing if the ground is stable. I have no plans to test this, though some owners have fitted legs to make this a less stressful experience. Deep fin and shallow fin versions were also made, but the wing keel versions seems to have been the most popular.
The Starlight was made with a separate interior moulding – the gap between the moulding and the hull being filled with foam. As well as providing lots of positive buoyancy, this also offers excellent insulation and noise reduction.
The vital statistics of the Starlight 39 are:
LOA 40'5″
LWL 31'4″
Beam 12'6″
Draft (wing keel) 5'3″
Displacement 17,500 lb
Ballast 7,300 lb
For more information on the Starlight 39, there are some useful weblinks: