Summary: Rhu to East Loch Tarbert. 39.8 miles in 7 hours.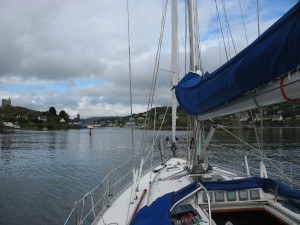 Andy Leake, John Rennie and I arrived at Rhu Sunday evening and then set off first thing this morning from Rhu – for the last time. The day started a little windless and we found ourselves motoring for the first few hours until the Kyles of Bute. At that point the sun came out, we hoisted full sail and managed to sail all the rest of the way to Tarbert – a lovely passage. The wind was quite variable, but after the Kyles around 8-12 knots from the NW.
We tacked the last section up to Tarbert – a harbour that always provides a real sense of calm – literal and metaphorical – every time we enter. The evening was rounded off with an excellent meal at the Starfish Restaurant on Castle Street. As a starter Andy and I had Cullen Skink – a new experience. Whoever named this soup clearly wasn't an expert on branding as it doesn't inspire you to choose it off a menu. However, having had it here, I would order it every time. Cullen Skink is a potato, smoked haddock and onion soup – a delicious combination and served at the Starfish with an excellent home-baked bread. In fact, we even persuaded them to allow us to buy a frozen loaf from them which sorted our sandwiches for the next few days.