Summary: Crinan Basin to Oban marina on Kerrera. 25.3 miles in 4 hours and 5 minutes.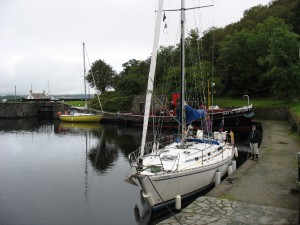 Heading out of the Crinan Canal, our next stop today was Oban. Heading north from Crinan, the most important consideration is timing. After a full season on the Clyde of scarcely worrying about tides, the tide tables and tidal atlases got their first workout of the season. The key tidal gates heading north are the Dorus Mor (gaelic for Great Door) and then, to a lesser extent the Sound of Luing heading up between Fladda Island and Dubh Sgeir. The advice is to leave around an hour before HW Dover to catch a fair tide through Dorus Mor and carry it north. Given a mid-afternoon time for HW Dover we locked out of the Crinan Basin around 14.15 and motorsailed the first few miles through Dorus Mor. Being neaps and relatively slack water, it was completely placid, but that was fine with us! Once we bore away slightly up the Sound of Luing we had a lovely sail with a maximum of around 9.5 knots over the ground. The wind decided to die though as we went past Easdale and so the engine came on again to get us up Kerrera Sound, arriving at Oban at 18.20. A beautiful trip with some interesting pilotage along the way.
Easdale Island is known as one of the Slate Islands in the Firth of Lorn and was once the centre of the UK slate industry. There used to be a community of over 500 people (known as the Hellish Rabble) working there quarrying slate and the quarries sometimes ran down around 33 feet below sea level. Indeed one island – Eilean-a-beithich – was quarried to a depth of 76 metres leaving just the outer rim. The sea has now seen to even that bit, leaving little evidence that an island ever existed. Since a storm in 1881 flooded many of the quarries, the industry has been declining and the last slate was cut in the 1950s. Easdale's real claim to fame though is that since 1997 it has been the venue for the world stone-skimming championships. The event came under threat in 2012 when a £1,000 fee was demanded for use of the quarry where it takes place, but the Press and Journal newspaper stepped up and paid the fee. The 2013 championship will take place on 29th September and over 300 contestants are expected.
The main marina for Oban is over on Kerrera Island and the marina run a complimentary ferry service to the town.