Inverness to Arbroath – 163.9 miles in 27 hours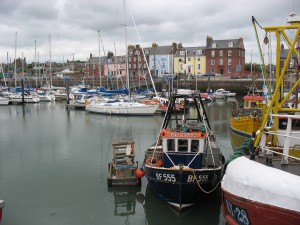 An unremarkable trip this one, though the highlight was spotting a whale for the first time in Inverness Firth. It surfaced several times, staying a couple of hundred metres from the boat. The cliffs at Troup Head east of Macduff are home to a sizeable gannet colony as well, as sailing along was like trying to cross a gannet motorway with them flying in and out constantly to and from the sea. We saw lots of other sea birds – there were definitely guillemots, but the rest I am a little hazy on! There were a couple of large fixed wing, very noisy birds that buzzed us that I could identify. They were a couple of Tornados from RAF Lossiemouth. There are three squadrons of them there apparently.
Apart from these sporadic excitements though, it was a fairly straightforward and relatively unexciting trip. The weather was such that we had to motor the whole way apart from an hour when we managed to sail at 3-5 knots. We eventually had to give up when the wind died again. The wind did kick in from the south at Rattray Head and from Fraserburgh to well beyond Rattray Head was very lumpy for quite a while. The seas did eventually settle down again to match the fairly feeble wind, but it took a long time. Crossing Peterhead and Aberdeen harbours at night was an interesting experience. Listening in to the VTS channels for both made it clear they are definitely 24 hour ports! Outside Peterhead alone we had to avoid 3 oil supply ships coming out in the space of 15 minutes. They don't hang around …
Around 7.30am we arrived at Arbroath with immaculate timing – they had opened the dock gates 15 minutes earlier. The dock gates are opened for around 6 or 7 hours on each tide and are then closed to maintain the depth in the small marina. The final approach was quite slow as we have never seen so many pot markers laid – there were hundreds. Arbroath is clearly a significant centre for lobster fishing. It is also of course home to the Arbroath Smokie. This now has protected status and smokies can only be produced within 4km of Arbroath. Most of the production is actually done close to the harbour. The haddock are first salted overnight and then left to dry out in pairs. Once dry they are then smoked over a hardwood fire using a special barrel. Local urban legend has it that the smokie was created when a store of salted haddock caught fire. The fish, rather than being ruined by the fire, we actually quite tasty and so the 'smokie' was born. The reality is more likely to be that the villagers of Auchmithie (just north of Arbroath) were of Scandinavian descent as the process is one that is still used in parts of Scandinavia.