Lelystad to Medemblik – 25.9 miles in 4 hours 35 minutes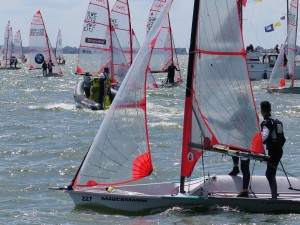 With a better forecast for today, we decided to head back across the Markermeer and north into the Ijsselmeer again. The destination we chose was Medemblik, not least because the marina there is part of the Amsterdam marina group, so we would get a free night! The wind had eased but was still blowing a healthy F5 from the south west, so we hoisted a reefed main and two thirds jib and hurtled across the Markermeer at 7-7.5 knots all the way as far as the Enkhuizen lock. We timed the approach immaculately as the lock was just about full and we were the last boat in. However, there was not enough space against the walls at the end of the lock, so we headed down the centre to go alongside another yacht. With a motor boat not getting a stern line on and swinging across the lock, this proved interesting but with my eyes firmly closed listening for the crunch of glassfibre we made it unscathed – just!
Once out the other side we hoisted just the jib not expecting to sail for long as once round the point, Medemblik is only just north of west. With the wind shifting marginally though we managed to sail most of the way across – even beating a 33 footer under full sail, which we felt quite smug about under jib only (to windward). We needed to tack across to make Medemblik, but found that there was a rather large obstacle in the way – the 29er European Championship fleet of around 125 boats. So, on went the engine and we headed round the fleet.
Our berth is in the Regatta Centre Medemblik which is just south of the main town entrance. The main entrance is dominated by Kasteel Radboud. This castle was originally built by Floris V in around 1289. The defensive function of the castle became less important after walls were built around Medemblik in 1572 and it fell into gradual disrepair. it was finally passed into state hands in 1889 and restored. It was then used as the district court of justice until 1934. Its main claim to fame though is that it was used as a hiding pace for Rembrandt's Night Watch painting by the Rijksmuseum. They anticipated the start of the war and in September 1939 moved the Night Watch to Kasteel Radboud before moving it on to a more permanent hiding place in a bunker in the dunes near Castricum.