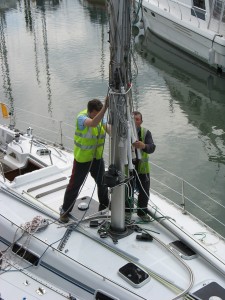 Rig Magic came down today to set up the rig. It was useful to have it professionally set-up and find out how it should be done. The Starlight has a double spreader masthead rig, so it was useful to see the process for getting appropriate tension on this rig.
Basically, it was done as follows:
The forestay is fixed, so this gives the rake setting automatically. The only way of adjusting this is to cut the foil and forestay down.
First step therefore is to tighten the caps and make sure that the mast is square in the boat. This can be done by measuring by tape to either side or, if the shrouds were made identically, then it can be measured from the studs. First tension can then be put on the caps.
Then first tension on the intermediates and lowers and check squareness again.
Then pull full tension on the caps – the tension should be in the region of 15-17% (as measured by a LOOS gauge).
Then put full tension on the intermediates.
Then adjust aft and forward lowers – make sure the mast is square with the aft lowers and then pull more tension on the forward lowers to put in a little pre-bend
Finally put tension on the backstay – this can be a little higher – around 20%. This is to maintain forestay tension – the weight of the roller and everything else needs a little more tension.