Summary: Plymouth to Fowey. 28.2 miles in 4 hours and 25 minutes. A bit of a bouncy trip with quite a left-over swell from the previous three days of gales, but we managed to sail most of the way.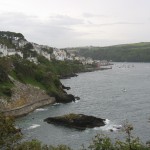 We at last left Plymouth after waiting nearly four days for the gale to abate. The wind finally dropped overnight, but we were still graunching and tugging at the mooring lines all night, so not a great night's sleep. Out of the harbour we found a W4 and motorsailed with one reef in the main out towards the Eddystone Rocks to clear the point. Once clear we tacked round and pulled out most of the jib. We had a great sail towards Fowey, though we went a little further than necessary as I had overstood the entrance a little before tacking. At the entrance we found we were not the only visitors that day with a large cruise ship anchored directly across the mouth of the river and tenders buzzing in and out with passengers. However, inside was very quiet and we picked up a visitor's buoy.
We took the water taxi ashore and had a look around. Best to avoid looking at the estate agents though as various 'celebrities' and other 'incomers' have pushed up prices in the area significantly. Richard Madeley and Judy Finnegan, Lenny Henry and Dawn French and Gloria Hunniford all apparently have second homes here! More famous previous residents of the town include Daphne Du Maurier who lived there 1907-1989 and Kenneth Grahame ('Wind in the Willows') who lived in the town for part of each year in the late 1890's and early 20th century.
Fowey remains an important port and competed for many years with the nearby ports of Charlestown, Par and Pentewan. However, better natural access to Fowey gave it an advantage and it remains an important port for the export of China Clay.
For more pictures, see the Fowey picture gallery.