Summary: Fowey to Mylor (Falmouth Harbour). 27.4 miles in 3 hours and 45 minutes. A short trip along a lovely coast and for a change in sunshine. A reasonable breeze got up, but from more or less dead ahead so we motorsailed with main only.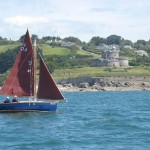 We left Fowey at just after 8am. Even though it was calm it was not a stunningly comfortable night on the mooring with a residual swell still coming into the river. Fowey is quite open to the south and the visitor's moorings are a little exposed. Initially it was pretty much calm and so hoisted just a main and motorsailed to Dodman Point. After Dodman Point we managed to bear away a little but still too tight to sail straight there so we carried on motorsailing while the breeze came up quite a bit. Eventually there was 20 knots as we came into Falmouth Harbour. It was lovely to come into the harbour and recognise the various places – St.Mawes Castle and the Percuil River (where we used to sail a Wayfarer from when holidaying at Gerrans), Pendennis Castle and St. Just in Roseland. We headed in a little further than usual to Mylor Yacht haven which is a Transeurope Marina. A friendly welcome and once again help with our lines which was great as they initially tucked us in a very tight gap between two very expensive boats! After chatting though we then moved to a finger berth – once again, with help. A lovely spot and friendly marina with good facilities. There is also a Cornish Shrimper rally taking place at the same time with around 60 of them rafted up around the marina.
In the afternoon we walked over to Mylor Bridge. Mylor parish is made up of several villages including Mylor Churchtown (where the marina and church are), Mylor Bridge and Flushing. Mylor Bridge is a lovely village at the end of Mylor Creek and seems to be the largest of the villages with a post office, butcher, local store and even a fish shop. The village is in a lovely setting at the end of the creek.
Further round opposite Restronguet Point is the well-known Pandora Inn. The pub was once owned by Captain Edward Edwards. In 1790 he was appointed the Captain of HMS Pandora. She was sent to search for the Bounty Mutineers and with the help of Thomas Hayward, a Bligh loyalist who had recently returned to England, he found 14 of the mutineers. However, the Pandora was then wrecked on the Great Barrier Reef in August 1791 and four of the mutineers and 31 of the Pandora's crew were lost. The rest endured a tough open boat passage to Jakarta and eventually 10 of the mutineers and 78 of the Pandora's crew made it back to England. Captain Edwards was court-martialled for the loss of the Pandora but he and his crew were exonerated. He ended his career as an Admiral of the White – a very senior officer. The Pandora Inn is named after the most infamous of his commands.
In the afternoon we managed to catch up with Anne's cousin Catherine who she hasn't seen for four years over a cup of coffee on board the boat.
See the Falmouth picture gallery for more pictures.