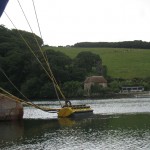 Summary: Mylor to Truro River and back. Anchored for the night up the Truro River just beyond the King Harry Ferry. Once anchored found we had engine cooling problems, so spent evening trying to sort them. Next morning headed off back towards Falmouth, but after 20 minutes found the cooling problems still there, so sailed back to Mylor and got a tow back in from the yard workboat. A huge round trip of 9.9 miles!
Got back to the boat after nearly two weeks at home waiting for a weather window. We thought we had one till we looked at the evening forecast on Thursday. Discovered that the low that was supposed to be further west had come east and was centred over Milford Haven giving winds round Lands End of 25-30 knots with torrential rain. So, a change of plan! We decided to head up the Truro River for a change of scenery. Had a short sail over to by Trellisick House and then motored up past the King Harry Ferry and Smugglers Cottage to just before Maggotey Bank and anchored there for the evening – a beautiful peaceful spot. However, just when we had finished anchoring the water warning light came on on the engine. We discovered it had lost all its coolant with a perished pipe from the heat exchanger to the calorifier. Andy L spent the evening fiddling in a really tight space to try to cut the end off the pipe and replace it on the fitting, but we didn't manage (I did sterling work holding the torch!).
Next morning, got up to no wind at all, so we didn't have the option of sailing off the anchor. So, we fiddled again and managed eventually to work the pipe onto the fitting and clamp it. We motored off the anchor and down the river back towards the King Harry Ferry, but disappointingly the water warning light came on again just by the ferry. So, we ghosted under jib and main back to Mylor and gilled around off the entrance eventually picking up a mooring under sail while we waited for a tow in from the marina workboat. Eventually got tied up alongside the visitors pontoon at 11.40. Mylor engineers were very busy but we found the very helpful Falmouth Harbour Marine Services who came over at 2pm and replaced the pipes and fittings. Seems that the fix didn't work properly because the pipe was perished again.