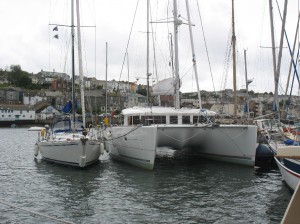 Summary: Mylor to Falmouth Visitors Yacht Haven. Moved round to the main Falmouth Yacht Haven – the stunningly long distance of 3.8 miles in 1 hour, most of which was spent gilling around trying to find a berth.
The forecast still had gale warnings for all sea areas, so for a change of scenery we decided to head round to Falmouth to the vistors marina in the centre of town. Motored all the way round, but spent some time gilling around trying to find a suitable berth. With a large rally from Southampton taking most of the berths, there wasn't much space. We ended up with the unusual berthing problem of having to jump up to get the lines on rather than the usual situation of jumping down. In fact, the catamaran we are moored against had such a high freeboard that we just tied on a breast rope until we could work out how to climb up onto it. In the end we have put our fender step onto his cleat to enable us to get onto his deck. The catamaran is from the Netherlands and they have taken 3 years off to cruise around with a two year old on board!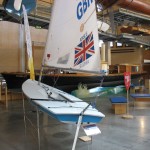 Feeling small was then the theme of the day. In the afternoon we headed round to the Falmouth Maritime Museum for a look round. The museum is really well laid out with a varied range of displays. On walking in, there is the Laser that Ben Ainslie won his gold medal in and suspended all around were a whole series of dinghies. Supercalifragalisticexpialidocious – the Flying Dutchmen that Rodney Pattison won gold in, Wanderer – the Wayfarer that Frank and Margaret Dye sailed all over the place and one of the original International 14 dinghies. Watching a short video on Frank Dye's exploits just made me shiver as he talked about Force 8/9 winds on the way to Iceland where he just had to put out a drogue, take the sails and mast down and just lie down and sleep through the gale. How he could sleep in that situation, I will never understand. There was also a search and rescue exhibition with a full size Sea King helicopter and various inshore lifeboats.
Then to make us feel even smaller we watched the boats in the Pendennis Cup coming in to join the J-Class boat Lionheart that was still berthed after the J-Class regatta last week. She is a modern replica built to the new J-Class rule, but is based on the lines of one of the original America's Cup boats – Ranger. Watching 100-150 foot boats being moored stern-to Mediterranean style was an object lesson in boat handling. Though many of the competitors were modern boats there were also some beautifully restored classics. For example, Mariquita is a William Fife design from 1911. She has been completely restored and looked immaculate.
See the Falmouth picture gallery for more photos.