Summary: 31.6 miles in 4 hours and 45 minutes. From Portland marina to Portland marina via Lulworth Cove.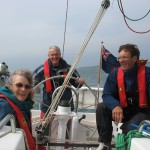 Bob and Jilly and George arrived after an early morning start to a fairly murky day. Visibility was only a couple of miles and the wind was blowing resolutely from the east – where we wanted to go. However, we went out and tacked along the shore through a short chop with one reef and two thirds jib.
It took us three hours to do the 8 miles to Lulworth Cove and we did 20 miles on the log! With the wind and tide against us, it was a slow sail. Neverthless we had a nice sail with the boat going nicely.
Once we turned round, it was a fast broad reach back to Portland Harbour. As we got closer to the harbour we started to see boats training, including Iain Percy and Andrew Simpson behind us in their Star – probably the only time we were ever likely to see them behind us! Downwind they let the mast right forward and the crew weight is moved onto the foredeck – moving backwards and forwards to help them surf down the waves. We also saw the GBR team of 470s out training, coming in with their spinnakers up. We didn't see them for long though as they went hurtling past us planing at full speed.
Once back in we tied up again in a slightly different place on R pontoon as many of the other Passage to Portland boats had started to arrive, many of them dressed overall. The boat opposite us had dressed overall in a slightly different way to usual conventions with a series of red, white and blue thongs …. We were then joined about an hour later by an Ovni 385 – the RYA Chairman's boat.
See the Long Road to Lulworth picture gallery for more photos.