Summary: Poole to Portland marina. 32.8 miles in 5 hours and 45 minutes. Light winds most of the way, but managed to tack across and sail for most of the trip.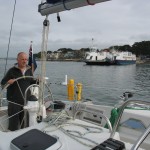 Paul and I left Poole about 08:50 with a very light breeze. We had to motor out through the harbour, but once past the Bar buoy, a light breeze sprang up and we managed to sail most of the way. The wind was, of course, coming from exactly where we wanted to go, but we had to tack well to the south anyway to clear the overfalls at St.Aldhelms Head and the firing ranges. A generally quiet trip until we got into Portland Harbour where there was manic activity. Coaching RIBs everywhere along with groups of 49ers, Lasers, Sonars, Stars, RS-Xs, 470s and Finns all training in the light breeze.
The whole Portland marina complex is completely new since I last came here and we are moored directly opposite the new Weymouth and Portland National Sailing Academy where the Olympic sailing will be based. Even though it is still a couple of days before the Sail for Gold Regatta starts, the place is a hive of activity. Have spent the afternoon watching Stars, 49ers and various other classes all coming in past the end of the pontoon.
The new marina is based close to Portland Castle. This was originally built by Henry VIII in 1539 and is known as a 'Device Fort'. There is a series of these forts and artillery fortifications along the south coast of England and they were built in two main tranches. The first block, including Portland Castle were done in 1539 and following renewed threats from the French there was a second programme of building in 1544. These device forts include a number of well known south coast forts; Calshot Castle, Yarmouth Castle, Hurst Castle, Netley Castle and Southsea Castle.
The harbour at Portland was originally just a natural one from the shelter of the Isle of Portland, but in 1849 the Royal Navy created a breakwater to the south of the harbour. In the early 20th century further breakwaters were added to completely enclose the harbour as protection against torpedo attack and in 1914 HMS Hood was scuttled across the southern entrance to the original breakwater as further protection against submarine attack. This entrance is still inaccessible and the wreck is considered too dangerous for divers to dive on it. Shipping now uses the eastern entrance but yachts are required to use the northern one closest to Weymouth.
See the Portland picture gallery for more photos.