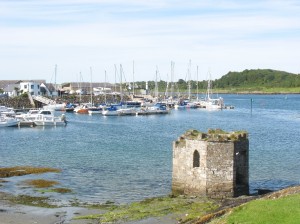 Summary: Howth to Ardglass. From Ireland into Northern Ireland. 57.7 miles in 10 hours and 30 minutes. A slow plod, motorsailing all the way as the wind was pretty much from dead ahead.
We left Howth after a grotty night at around 5am and in fairly grey weather bounced our way past Ireland's Eye and the Lambay Island and then the isolated rocks of Rockabill. After a few hours the weather started to improve and the wind dropped, so we kept heading across Dundalk Bay and past Carlingford Lough to Ardglass. We arrived around 3.30pm – tired, but satisfying to have arrived.
Ardglass is a lovely little marina. Perhaps the most Heath Robinson we have visited yet. It is basic in most respects, but cheap and genuinely cheerful – people are all very friendly and helpful. Using the WiFi in their upstairs room which is also used for AA meetings is certainly different! The marina also has a resident grey bull seal – an enormous seal that surfaces around the place occasionally.
The name Ardglass is derived from the Irish Ard Ghlais, meaning green height and with the Mourne Mountains in the background, it is easy to understand where this name came from. It is a relatively small but secure and sheltered inlet making it a good location for a port. All tide access helped to make it a fishing port for more than two thousand years. It became a moderately important port from the 15th century onwardsand it has more medieval tower houses than anywhere else in Ireland thanks to this. The harbour itself was mainly developed William Ogilvie purchased the Ardglass Estate in 1812. He started works building the piers and harbour walls, though a huge storm in 1838 undermined the pierhead and the lighthouse fell into the sea. The piers were eventually finished in 1885 and these are the ones still in use today.
Ardglass is still an important fishing port specialising in herrings, prawn and whitefish with around £5 million a year being generated by the fishing trade, but the marina is also an important element of the harbour now. It is also a mecca for golf lovers. The clubhouse is in a grand building known as Ardglass castle while the course is generally reckoned to be one of the top links courses around the world. I can't vouch for that, but the view from the first tee is certainly stunning.
For more pictures, see the Ardglass picture gallery.