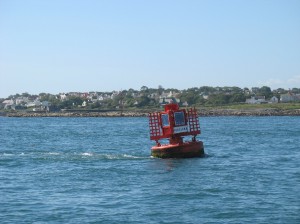 Summary: Ardglass to Bangor. 38.7 miles in 7 hours and 35 minutes. A lovely sail past Strangford Lough and into Belfast Lough through Donaghadee Sound and past Copeland Island.
A strange thing happened today – a golden orb mysteriously appeared in the sky. Some online research confirmed that it was the sun and that it had been spotted often prior to the 2012 sailing season. To compound the mystery the wind also blew a lovely force 3, though we were brought down to earth slightly by the fact that it blew from the NW which was exactly where we wanted to go. However, we managed to sail nearly all the way tacking up a beautiful section of coast. We had to turn the engine on briefly to get through the narrow Donaghadee Sound between the shore and Copeland Island. Trying to tack through this narrow passage with 2 knots of tide against us and the wind dead ahead might have been a little foolhardy, but after this we managed to sail again (albeit slowly) right up to the entrance to Bangor Marina.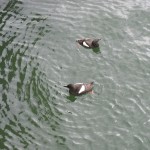 Bangor marina is a Transeurope marina and is the largest in Northern Ireland and the second largest in Ireland. It is very sheltered behind substantial pierheads and was built in 1989. It is right in the centre of town and very convenient for walking, shopping and heading off into Belfast. A new park has been built beside the marina on one side and it is a generally attractive location. The marina itself has a resident population of black guillemots who nest in nesting boxes on the marina walls and in pipes and holes around the place. The black guillemot is known in Scotland by its Shetland dialect name of 'tystie'. It is an auk and is related to the commoner guillemot, razorbill and puffin. They are generally fairly solitary birds and the main population in Scotland is in Shetland where thousands of them breed. In total in the UK the RSPB estimates that there are around 39,000 birds. They mainly eat fish and crustaceans and in the clear waters of Bangor marina, it is easy to see how they catch them – they are very proficient swimmers.