Summary: Lochgoilhead to Port Bannatyne. 28.1 miles in 4 hours and 45 minutes. Motored for the first few hours but then a nice breeze (though right on the nose) meant we could sail the last stretch.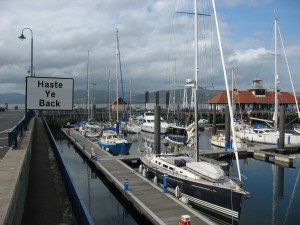 We left Lochgoilhead early morning and headed down Loch Goil, Loch Long and past Inverkip. We then rounded Toward Point and rather than head into Rothesay, we decided to try the new marina at Port Bannatyne. The marina was only built in the last couple of years and offers around 100 berths behind a stone breakwater in Kames Bay. It is sheltered and accessible at all states of tide.
Port Bannatyne itself is a small village about 3km north of Rothesay. During the second world war it was the Headquarters of the Royal Navy's 12th Submarine Flotilla – HMS Varbel. They requisitioned the Kyles Hydro Hotel as their headquarters and used nearby Loch Striven as a testing area. The base was the only base in the UK for midget submarines and human torpedoes. The midget submarines were known as X-craft and were around 51 foot in length. they were designed to be towed to the appropriate area by a larger sub and they were then deployed to hunt out their target. The explosives they carried were in what were known as 'side-cargoes' and once they reached the target, they dropped the explosives and headed off quickly! Perhaps the highest profile attack they were involved in was in September 1943 when two submarines successfully laid charges under the Tirpitz, rendering her out of action until April 1944.
In the afternoon we went into Rothesay on the bus and walked past the castle and to Loch Fad – an inland Loch and trout fishery. Rothesay Castle has an unusual circular plan and a history dating back to the start of the 13th century. It is now ruined and is managed by Historic Scotland.