Summary: From Rhu to Lochgoilhead. 17.2 miles in 3 hours and 5 minutes. Light winds so mostly under motor, but a nice sail up Loch Goil.
We arrived back on board on Monday and after fitting the new main (from Kemp Sails), we set off Tuesday at 09.35 to head round to Sarah and Phil's house at Lochgoilhead. The wind was pretty light for the first couple of miles, but we did manage to sail most of the way under jib only up Loch Goil. The wind seems to follow you up these Lochs whichever direction you are heading in! However, in the light breeze we did manage to see lots of harbour porpoises on the way to Loch Long. Heading past the naval base in Loch Long we did get shadowed by the Defence Police boat, but having come very close, they just gave us a friendly wave. Given that Anne was knitting all the way past, I should perhaps see if the NSA are listening by suggesting that we were 'yarn-bombing in Loch Long'.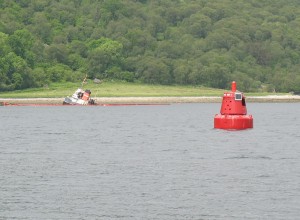 The entrance to Loch Goil is lovely, though at the entrance was a timely reminder to keep to the channel – a sunken tug.One of Lochgoilhead's claims to fame is that the highlands around the head of the loch were used for filming scenes for 'From Russia with Love'. The scenes where Sean Connery shot down two baddies in helicopter were filmed there in 1963.
Once at Lochgoilhead, we met Phil and Sarah, went to the local hotel for lunch and then walked it off with a dramatic walk round the head of the Loch and back to their house. Feeling very lazy, we stayed with them after supper.
The visitors moorings at Lochgoilhead are run by the jetty trust and have little tags on every mooring asking you to either pay online or to pay at the local garage. At £10 for the night they are excellent value.