Summary: Rhu to Lamlash. 35.7 miles in 5 hours and 55 minutes. Basically calm all the way, but we managed just over an hour's sailing.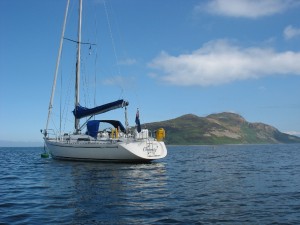 We headed across from Rhu between Bute and Great and Little Cumbrae Islands and then across to Lamlash Bay on Arran. It was a quiet passage with very little wind most of the way though we did manage to sail for a short time. In Lamlash we picked up one of the visitor's moorings for the night. The bay is beautifully sheltered from most directions – shelter from the east being given by Holy Isle.
The name Holy Isle is a bit of a giveaway that it has long been thought of as a sacred site. There is said to be a healing spring (well there is definitely a spring anyway!) and there is also a hermit cave of a 6th century monk. The island is now owned by the Samye Ling Buddhist Community and on the northern end of the island is a Centre for World Peace and Health. On the southern end of the island are buildings used by nuns on a three year retreat. Visitors are welcomed and there is a regular ferry across to the island. We decided instead to test the healing power of scones, cream and jam on the main island.
Between the northern end of Holy Isle and the Arran shore, a no-take zone has been established – this was designated by the Scottish government in 2008. This has allowed marine life to flourish and has already seen much higher stocks of scallops, cuckoo wrasse, sea squirts and a range of other marine life. The charity behind the no-take zone are pushing to have the whole of the south of Arran designated as a protected area.
On the first afternoon we had a lovely cream tea at the Pier Head cafe and a short walk round Lamlash. The next day we took the bus up to Brodick, then another across to Blackwaterfoot and then finally a bumpy bus right round the south of the island past Pladda Island and back to Lamlash. A great way to see the island, if a little uncomfortable in places. Arran is said to be Scotland in miniature – I hate to think what the full size bumps would be like!