Summary: Port Bannatyne back to Rhu. 17.1 miles in 2 hours 50 minutes. Motored all the way – next to no wind at all.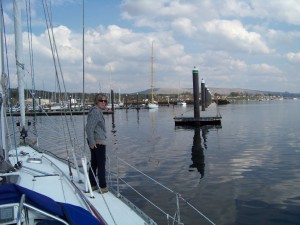 We headed back to Rhu this morning in more or less a flat calm – a complete contrast to the last few days. Not an exciting passage, but we did see lots of shoals of very small fish bubbling and jumping close to the surface with gulls picking them off. We then saw lots of porpoises – all presumably after the same thing!
We also saw the Waverley. She is the last seagoing passenger carrying paddle steamer in the world. She was built in 1946 and operated the Craigendorm (Clyde) to Arrochar (Loch Long) route from then until 1973. She was originally owned by the London and North East Railway Company (LNER), though with the nationalisation of the railways in 1948, she became part of the Caledonian Steam Packet Company (CSP). CSP gradually in the 1970s with the Scottish Ferry Company – David MacBrayne Ltd. which became Caledonian MacBrayne – or CalMac as it is better known.
The Waverley (which is named after Sir Walter Scott's first novel – Waverley) is now owned by the Paddle Steamer Preservation Society and operates all round the UK. She usually cruises the Thames area in September and October.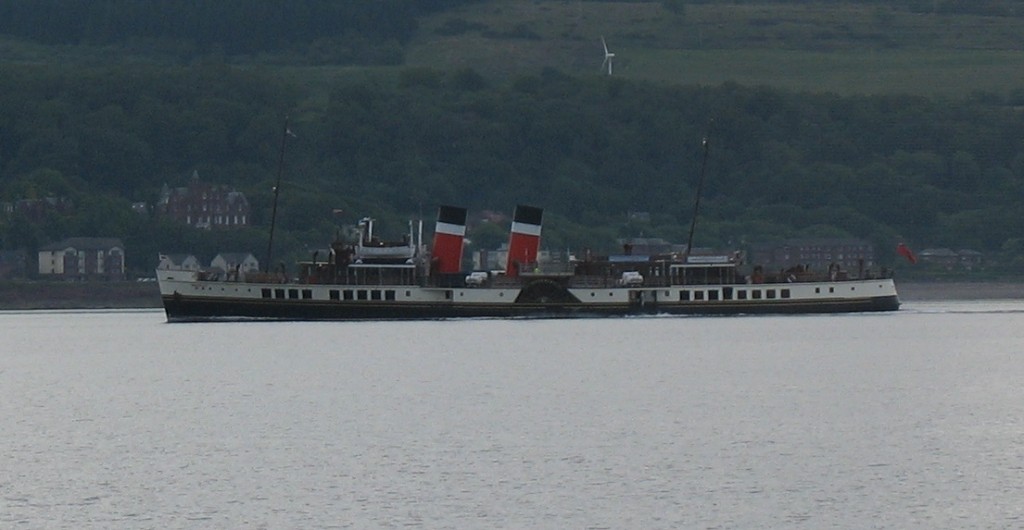 As we got closer to Rhu, three police launches, four police RIBs, two minesweepers and a naval patrol boat gave a hint of something going on. Sure enough, a few hours later a large nuclear submarine went past the marina. She was, according to a German sailor further down the pontoon, a Vanguard Class of submarine. He proceeded to give me precise dimensions and details of the sub which did make me wonder whether he was more interested in submarines or the classic yacht he was on! He also suggested that she was damaged and it did look like a series of plates along the side of the hull, but whether this was correct or not – who knows.
There are apparently four Vanguard Class subs with three at sea at any given time and one in for refit. HMS Vengeance is apparently in for a major refurbishment at the moment, so what we saw was presumably either HMS Vigilant, Victorious or Vanguard – the other three imaginatively named subs. In this new era of privatisation, perhaps the next boat could be sponsored by a drugs company and be called HMS Viagra – keeping Trident missiles up as never before! The Vanguard Class has a Rolls-Royce pressurised nuclear reactor as the propulsion and they can circumnavigate the globe around 40 times at 25 knots without any need to refuel. This did start me wondering if they do a mini version for Starlights – particularly having just put 60 litres in the tank from motoring a lot the last week.