Summary: Tarbert to Port Bannatyne. 23.5 miles in 4 hours 25 minutes. Managed to sail most of the way with a short motor up the West Kyle.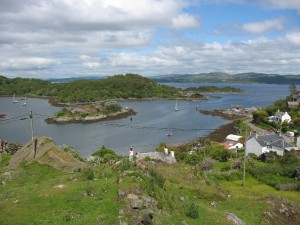 The weather decided to ease after a couple of days of blowing hard, so we left Tarbert about 07.25 and headed down round Ardlamont Point and then up the West Kyle. With the wind behind we managed to sailed the first 7 miles or so (under jib only), but up the West Kyle the wind was dead ahead, so the motor went on. Once at the top though, the jib came out again and, though the wind went very fickle across the top of Bute, we managed to sail all the way through the Burnt Islands and back down the East Kyle.
Once at Port Bannatyne, we decided to take the bus down to Mount Stuart House. Mount Stuart is a Victorian Gothic mansion and opulent in the extreme. As a result of the previous Mount Stuart House burning down in 1877, building started in 1880 and took through to around 1912. It was the first house in Scotland with a heated indoor swimming pool, electricity, telephone lines and central heating. It was built by the 3rd Marquess of Bute. His father (not surprisingly the 2nd Marquess!) made a fortune through business and marriage. As the guide put it, as a result of his marriage he 'gained Cardiff'. He then developed the South Wales coalfields and docks and through this and other business interests became one of the wealthiest men in the country. His son then spent a good deal of it building Mount Stuart and various other buildings around the world. The 3rd Marquess apparently spoke 21 languages fluently and was very interested in plants, ornithology and architecture. Mount Stuart House is certainly a clear statement of what he was worth. However, he died before it was completed and while it was mostly finished, there are still various elements of the house (tops of pillars etc) that are not quite complete. The family are apparently direct descendants of Robert the Bruce.
The 4th Marquess wasn't so keen on it and tried to sell the property with a condition that is was demolished and rebuilt somewhere else – perhaps as a casino or hotel. However, luckily this didn't happen and the property was essentially neglected until around the 1980s when the 6th Marquess undertook a huge restoration programme and opened the house to the public in 1995. It is certainly spectacularly lavish with a marble hall where all the marble was imported from Italy, 3 chapels (one lined completely with mirrors) and a collection of around 25,000 books in 4 libraries and archives.