Summary: Oban to Loch Feochan. 6.5 miles in 1 hour and 25 minutes.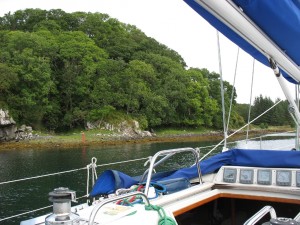 The last trip of the season today. A short run from Kerrera to Ardoran Marine in Loch Feochan where the boat will over-winter. We had to wait until around 10.45 am to leave as we had been advised to enter Loch Feochan around high water or on the first hour of the ebb. So, we left in, for a change, nice calm and sunny weather for the short motor down to Loch Feochan. Given tidal streams of around 6 knots in and out of the entrance, the first time in is a little daunting, but with calm weather, neap tides and on high water, it was very straightforward. The entrance weaves around all over the place, but is very well marked by buoys and perches that the boatyard lay.
On the way into the Loch is Tigh Beg Croft. This is now a self-catering cottage and was used in the 1968 filming of 'Ring of Bright Water' and also more recently for scenes in the thriller 'Enigma', based on the Robert Harris novel.
Below is a sped-up video of us entering Loch Feochan.
In Loch Feochan itself is Creag na Marbh, otherwise known as the Rock of the Dead. This rock forms a sort of natural jetty and it was used by royal galleys to transport the bodies of the dead kings of Scotland to their final resting place on Iona.
Ardoran will be Charmary's home for the winter.