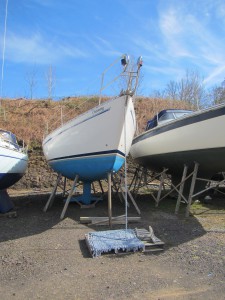 At last – the gales and rain have gone (hopefully) and the sun has come out in Scotland, so the time has come for Charmary to wake from her winter slumbers. We arrived back in Ardoran this afternoon and it was with a slight feeling of dread that I went on board to check how she had survived the winter. Not having seen her since packing everything up in October, I was worried about the state of the interior and possible dampness around the place. However, she has been well looked after and the de-humidifier has made all the difference keeping her mainly dry. A good clean all around on deck and inside and she should be ready for the season fairly quickly.
There were some leaks early on in the winter around the bulkhead by the starboard aft window and through the light above the galley. Ardoran Marine did a great job of tracking this down and re-sealing the bank of clutches seems to have more or less fixed this. It still needs some further investigation, but at least the leak has been minimised and once the sprayhood is on again, it should hardly come through at all. The light and woodwork will need some remedial work, but that seems to be the limit.
So – the next few days will be spent cleaning, antifouling and putting everything back together again. if all goes well then she should be on a mooring on Loch Feochan by the end of the week.