Kerrera to Corpach Basin – 33.8 miles in 6 hours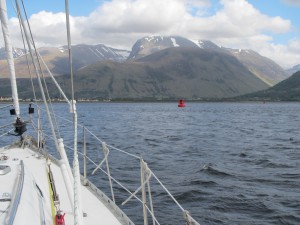 A lively sleigh ride of a sail today. The wind was forecast to be gusting 25-28 knots today, so we expected a fast trip, but it is probably safe to say we didn't expect a top speed of 10.3 knots with less than half the jib out and no main! A lot of the time we were making around 7-9 knots and even when we took the jib right in at the top of Loch Linnhe we were making 4 knots under bare poles. In fact the wind blew around 20-25 knots most of the day and we had gusts of over 30 knots quite a bit with the highest gust 38 knots. With wind over tide for the first part of the trip as well, we had quite a short chop which helped us surf quite a bit.
The weather was though glorious sunshine along with the wind, which gave us great views. The first part of the trip past Lismore Island and through the Appin Narrows was lovely and then we went round the west of Shuna Island and into the more open part of Lower Loch Linnhe. Approaching the Corran Narrows there was quite a short sea, but this eased off a lot once through the narrows. We also had great views of Ben Nevis much of the way, though the top did remain just in cloud. We finally locked into the Corpach Sea Lock about 4.30pm and moored for the night in the Corpach Basin.
Ben Nevis is the highest peak in Great Britain at 1344m, though it was not until 1847 that the Ordnance Survey confirmed this. Up until that point, its rival for this honour was Ben Macdui. This is now recognised as the second highest peak at a mere 1309m – 35m short of Ben Nevis. In 1883 an observatory was built on Ben Nevis and this ran for 21 years. To service this a path was built with a maximum gradient of 1 in 5 to allow ponies to bring supplies to the observatory. This path made climbing the peak increasingly popular. Since 2000 the majority of the peak, including the summit (which is the collapsed dome of a volcano) and the whole of the south side has been owned by the Scottish conservation charity the John Muir Trust. It should not, however, be confused with Ben Nevis (Jr) – a mountain a mere 922m high in the north west of Spitsbergen, but named after Ben Nevis.
In 2006 a piano was uncovered by the John Muir trust under one of the cairns on the summit. It was thought to have been carried up there by removal men from Dundee as part of a charity stunt.
See the Corpach picture gallery for more photos.