Tobermory to Kerrera (Oban Marina) via the southern tip of Kerrera – 39.6 miles in seven and a half hours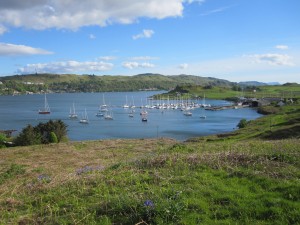 A varied trip today if ever there was one. We set off from Tobermory around 7.30am and headed west to look for sea eagles and seals. We had been told there was a nest around Ardmore Point and that Bloody Bay was a good place for seals. They had all obviously decided they didn't like the grey cloudy start to the day either and none emerged. So, after an hour or so, we turned round and headed down the Sound of Mull with a lovely 20 knot south westerly breeze. However, it didn't last and we then had everything from flat calm to 20 knot gusts along with regular shifts. Just as we debated putting the spinnaker up, the wind shifted through about 120 degrees and kicked in at a consistent 18-20 knots. We took a reef down and decided to beat down round the south of Kerrera. There we were rewarded with the site of a pair of sea eagles overhead performing a courtship ritual. We then also found some seals!
An excellent sail and we arrived at Kerrera marina around 2.15pm. Later in the evening we met Chris and Wendy Peet off the evening train and they stayed on board on their way to Barcaldine to pick up Moana and head back round to Tollesbury in the opposite direction to us. Chris set us up for the day with a fantastic cooked breakfast.
During our stay at Kerrera we chatted to quite a few competitors in the Scottish Islands Peaks Race. This was starting Friday morning (16th May) and meant a lot of healthy, fit looking people around at the marina! The race covers 160 miles of sailing and 60 miles of running. The runners cover 11,500 ft of climbing during their runs. Some boats carry specialist runners and sailors, while others are 'all-rounders' and the sailors are the runners as well. The race starts with a short run round McCaigs tower in Oban and the runners then join their boats for the sail to Salen on Mull for the first run, then on to Jura to run up the Paps of Jura, then to Arran and up Goat Fell and then finish in Troon.