Oban Marina (Kerrera) to Tobermory. 25.9 miles in 5 hours and 20 minutes.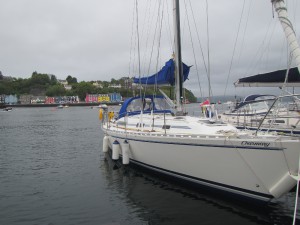 A lovely first proper sail of the season from Kerrera to Tobermory along the Sound of Mull. The breeze started off quite light and we initially motored around the back of Kerrera looking for the seal colony, but not a seal in sight! So, we hoisted the main and after a slight issue with the insert piece for the mast track, finally got sailing under full sail. The breeze was quite light initially and we did have to start the engine for a few minutes to help us buck the tide past the Lismore light, but it gradually rose and we then had a great sail (touched 8.3 knots at one stage) along the Sound of Mull to Tobermory arriving at 14.40pm. We moored up on the Tobermory Harbour Association (THA) pontoons. The THA is a community-run company offering moorings and all profits are ploughed back in – always makes it easier to pay the mooring fees when you know that.
Tobermory itself is the capital of Mull and a delightful harbour. The multi-coloured houses meant that it was the setting for the BBC programme Balamory – apparently 254 episodes of Balamory were produced, but not having seen a single one of them, I can't vouch for it at all. In fact the town was built initially by the British Fisheries Society in 1788 to encourage herring fisheries in the Scottish islands. The pier was even designed by Thomas Telford, though judging by its current state, not much has been done to it since then. The harbour though is very sheltered and the town, though clearly quite dependent on the 'tourist pound' is nevertheless a lovely place to wander around.
Legend or local folklore has it that somewhere in the bay is the wreck of the Spanish galleon – the Florenzia. The Florenzia was part of the Spanish Armada. Once the Armada had been routed off the Kent coast, they headed north round the top of Scotland. While heading back down the Scottish West Coast, the Florenzia is said to have taken shelter in Tobermory Bay. While moored there she is thought to have blown up and sunk in 20 metres of water with £300,000 worth of gold on baord. However, given that nothing has ever been found in the bay, this claim could be considered questionable.
The town was also used by Alistair MacLean for inspiration as he based the town of Torbay in 'When Eight Bells Toll' on Tobermory. Much of the film version (starring Antony Hopkins, Robert Morley and Jack Hawkins) was filmed around Tobermory and the Western Isles. The trailer for the film is, not surprisingly, on YouTube.
See the Tobermory picture gallery for more photos.