Loch Feochan to Oban Marina – 5.3 miles in 1 hr 45 minutes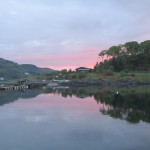 An early start this morning to catch high water and leave Loch Feochan. Woke up to a lovely calm morning and headed off from the mooring at Ardoran around 5.30am. Passed various herons fishing for breakfast along with oystercatchers and an otter who surfaced very quickly behind the boat. The marks were easy to pick up and the minimum depth in the channel was a generous 4.3m.
Once out of Loch Feochan, I headed up the Sound of Kerrera to Oban marina and arrived around 6.40am. A nice easy journey – just 5.3 miles in around an hour and a quarter. Spent the morning doing some shopping and then in the afternoon met Derek and Adie off the Glasgow train.