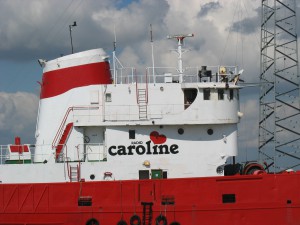 Levington to Tollesbury via Radio Caroline. 27.6 miles in six and a half hours.
We woke up to a lovely morning, with a gentle north easterly and clear skies. Having motored down to around the Landguard cardinal we hoisted full sail and headed on a gentle broad reach just keeping pace with Black Rose, looking magnificent under full sail. As the breeze rose we pulled away from her and around the Medusa buoy we set up the pole and goosewinged down the coast until around a mile from the Knoll. We then headed across past the North Eagle and into the river. A little early for the tide, we decided to head down to have a look at the Ross Revenge – Radio Caroline. On Easter Sunday 1964, the red broadcast light went on in the studio on board the Mi Amigo for the first time and the Rolling Stones opened a new era of pirate radio broadcasting with the track Not Fade Away. The Mi Amigo finally sank in a gale in 1980, though she had something of a track record. She had previously ran aground off Frinton in 1966 after breaking her anchors. The crew didn't realise for a while and not even the Walton on the Naze coastguards could raise them. The crew, who included Tony Blackburn, were taken off by breeches buoy and classed as "shipwrecked and distressed mariners"!
The Mi Amigo was replaced by the Ross Revenge. She was an Icelandic trawler built in Bremerhaven in Germany in 1960, but she moved to Grimsby and worked out of there from 1963 onwards. She was heavily involved in the Cod Wars, but by 1979 with the new 200 mile limit in place around Iceland, she moved to become a salvage ship and tug, first in Cornwall and then on the West Coast of Scotland. In 1980 she was bought to replace the Mi Amigo and converted in Santander in Spain. The conversion process took a while and she finally anchored in the Thames Estuary in 1983, but as early as 1984 dragged her anchor showing the problems she always faced keeping on station outside the three mile limit. In 1987 the transmitter mast was badly damaged in the October storm and though she kept transmitting, another gale in November the same year finally brought the mast down. In 1991 she nearly met her end on the Goodwin Sands after dragging her anchor again. This time, she was impounded, moved to Dover and certified as unseaworthy. Since then, a group of enthusiasts have raised the funds to maintain her and on 31st July 2014, she moved to the Blackwater.