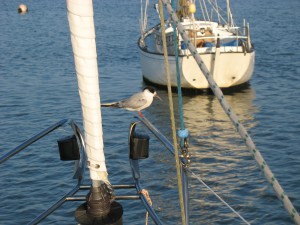 Tollesbury to Levington. 28.2 miles in 6 hours.
Though the weather was a little cloudy and visibility a bit murky, there was a good breeze forecast. We left the marina at 13.10 and managed to get sail up as soon we got to the Nass and I left in the reef in initially, but the breeze stayed a little light, so we shook the reef out and beat up towards the wind farm past the North Eagle. With the breeze in the NE we had to tack all the way up the coast and the breeze quickly freshened, so the reef went back in again.
Off Clacton we started crossing tack with a very sleek looking Elan 350, but we managed to keep pace with him until he snuck further inshore at Dovercourt and managed to get into Harwich Harbour on one tack. However, we soon overtook him again when he ran aground trying to cut inside the Cliff Foot cardinal. In the end he had to hoist his kite to heel enough to get off. With the breeze heading us and going light off Felixstowe, the engine went on and we motored up to just beyond Levington and picked up a mooring on the eastern side. A baby tern came and had a rest on board early morning, just before we left again.