Braasemermeer to Nieuwe Meer – 12.8 miles in 3 hours 5 minutes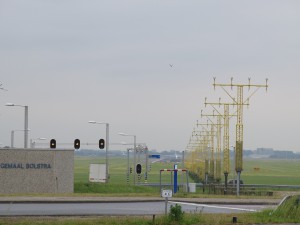 A short run this morning. We had to time the run a little carefully as the last bridge before the Nieuwe Meer – Schipol Basculebrug – only opens between 12.30 and 1.30pm. It is a major road bridge out of Schipol airport, so they obviously don't like to open it too often. Between this bridge and Braasermermeer was a further four bridges, though these were meant to open at any time. We timed the run to perfection and arrived off the Schipol bridge at 12.20. We were quickly through this, on to the Nieuwe Meer and then moored up at the pontoon by the Nieuwe Meer Sluis just after 1pm to wait for the start of the night convoy through Amsterdam.
The route took us directly past the end of the runway at Schipol, so we had a good view of the frequency of take-off! We were also passed by various party boats – some louder than others, but all children's parties and differently themed. We had a couple of football-themed ones, tennis, Candy Crush, Minecraft and Super Mario – at least these were the ones we recognised!
Now we are waiting for the start of the night convoy through the Schinkel up to the North Sea Canal. This should start around midnight, so time for an afternoon naaaaaaapppppp ………