Willemstad to Gouda – 37.6 miles in 9 hours 35 minutes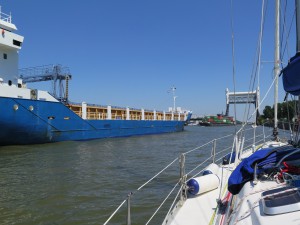 Today the sails were redundant and the only useful thing was the shiny new red engine which ran the whole way. Though there were a couple of stretches where we might have sailed, the wind was in the east/north-east anyway and so always straight on the nose. We left Willemstad after a wander round town. The start time was more or less completely dictated by the min Dordrecht rail and road bridge which only opens every two hours. We targeted the 13.12 opening as that way we didn't have to leave too early and so had time to look around and do some shopping. So, we left Willemstad about 10.30am and left our box berth far more slickly than we got into it. At least we would have if a small boat hadn't decided to do a fender overboard exercise right behind us! Once we turned off the Hollandsch Diep (which is very busy and very industrial) we moved into the much narrower Dordtsche Kil which goes north to Dordrecht.
We arrived at the bridge with about 20 minutes to spare and enjoyed some close company of various ships and barges as we went through the bridge. The next stretch was equally industrial with shipbuilders, chemical plants and metal works. This took us through to the next bridge – the Verkeersbrug at Alblasserdam. We made this easily, but as soon as we were through this, we opened the throttle hard as we only had 55 minutes or less to make the bridges at the Algerasluis storm surge barrier. The last opening of these for the day was at 3.20pm. We made this with about 5 minutes to spare and from there on it was a quiet canal cruise through expensive houses (each with their own boat on a lifting rack at the end of the garden) and reed beds – past Krimpen an der Ijssel and on eventually to Juliansluis at Gouda. This turned out to be the slowest section for the day as we had to wait for several barges to be locked through. Eventually we were radioed as the 'english yacht' and we went in in front of the next barge.. From there it was a very short run to the marina at Gouda. The description of this marina is that it has character. Derek got us very slickly into the berth they eventually found, it is the getting out and turning round which is likely to be even more exciting as we are not sure there is a section much more than 40 feet wide. However, that is for tomorrow once we have had a look round Gouda and bought some cheese!
Gouda is famous for its cheese, smoking pipes and stroopwafels. I am sure we will be trying at least two out of the three.