Veerse Meer to Willemstad – 40.6 miles in 8 hours and 15 minutes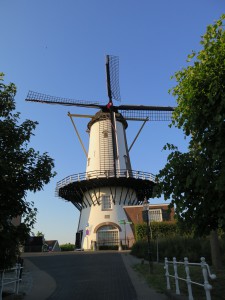 We started around 9am this morning from our island in the Veerse Meer with the intention of getting through to Willemstad and we did! The trip had its interesting moments – two of which were fixed bridges over the locks which had around 18m clearance. Given our air draft of 17.4m plus the VHF aerial, we went through two bridges very gingerly. We still have a mast and aerial, so we must have had some clearance. The trip took us through the Veerse Meer through a lock into the tidal Oosterschelde, then through another lock into the Volkerak and then through a final lock into the Hollandsch Diep and Willemstad.
We did manage to sail for a couple of hours of the trip, but given that the breeze was blowing a F4-5 from the NE and we were travelling NE through narrow waters, the odds were never good to sail that much. However, it was an easy trip punctuated by some calm in the locks. Arriving in Willemstad, we had to wait for a naval patrol vessel to manouevre into the harbour and then headed in to the main harbour. We were unexpectedly directed into a box berth which we decided to enter in a Laurel and Hardy style. we attached stern lines perfectly to both the posts on the way in and gradually paid them out while we headed forward until first Fiona ran out of line and then Derek did. we blew gradually sideways into box 24 rather than box 23! We did manage to warp ourselves back across, but we did learn a lot about having long enough ropes …..
The town is lovely with various historic buildings, but is dominated by the windmill.