Hoorn to Lelystad via Enkhuizen – 25.2 miles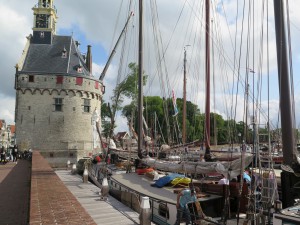 We started the morning with a quick walk round the harbour in Hoorn and then headed off (via the pump-out barge) round the coast to Enkhuizen. To do this requires, since 1975, going through the lock in the Houtribdijk. This was built between 1963 and 1975 and goes from Enkhuizen across to Lelystad. It is a dam separating the Markermeer from the Ijsselmeer- the Ijsselmeer being the section north of the dike (more correctly a dam!). Enkhuizen is just north of the dam, so we went through the lock and headed into the Compagnieshaven – the largest marina north of the town by the Zuiderzee museum. We moored up there against the entrance wall and then had lunch in the restaurant by the marina with a lovely view of the boats going past and into the lock. Slightly disconceringly there was a picture in the gents of a picnic, but this picnic was on the ice just outside the restaurant and was taken in 2010. It turns out it was taken by one of the waiters and he said that it freezes most years between January and March!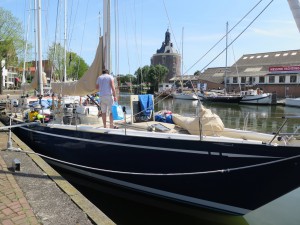 After a very nice lunch (mature cheese croquettes and chips) we had a wander round Enkhuizen – a lovely little town. In the main town harbour we saw the yacht Flyer. We asked the crew and this was the boat, owned by Conny van Rietschoten which won the 1977/78 Whitbread Round the World Race. She is a Sparkman & Stephens design and had been completely restored. She was looking absolutely immaculate and will apparently be chartered – very tempting.
From Enkhuizen we went back through the lock into the Markermeer and then motored across to Lelystad (about 2 hours). The wind was more or less non-existent and it was a hot passage in the sun – some people are never happy. Lelystad is named after Cornelis Lely, the Dutch engineer who built the Afsluitdijk (across the top of the Ijsselmeer), and was founded in 1967. Originally it was just an island where the pumping engineers worked when the polder was being drained, but eventually it became one of Holland's newest cities. It sits on what was the sea floor of the Zuiderzee – nearly 400 shipwrecks were discovered when the water was pumped out – and is around 5 metres below sea level. It is the capital of the new province of Flevoland.