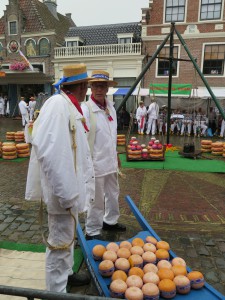 Edam to Hoorn – 7.9 miles in 1 hour and 55 minutes
A very short passage today. On Wednesdays during July and August Edam re-enact the old cheese market in the centre of town, so we decided to go and see this. It was actually, despite being standard tourist fodder, very entertaining. Most participants were local volunteers all dressed in traditional costume and they entered into the spirit of it wholeheartedly. They even acted out the traditional deals and pricing of the cheese in front of each stall along with the hand-clapping that sealed the price. There were lots of people running around all over the place carrying cheese – they were even bringing it in on rowing boats on the canal and carrying it up to the weigh house for weighing and pricing.
So we didn't set off until after lunch and we hadn't decided whether to head for Enhuizen or Hoorn. Given the murky weather, we decided fairly quickly to go for the short passage to Hoorn. Fairly quickly the sky did clear and we did actually have a lovely beam reach across at between 6-7 knots all the way – a lovely, if slightly short-lived sail. We headed for the Grashaven Marina in Hoorn (to port straight after going through the breakwater). It is the largest marina and has good facilities, but is still very central for the town.
Hoorn itself is a sizeable town. Originally founded in 716 it grew quickly and was a very prosperous town, becoming a key centre for the Dutch East India Company. Seafarers like Jan Coen traded extensively establishing the name of Hoorn worldwide. They returned with exotic spices such as pepper, nutmeg, cloves, and mace, all of which were sold at vast profits making Hoorn a wealthy town. Coen even founded Batavia (now Jakarta) in 1619, though the statue of him in the centre of town is somewhat controversial given the violent methods he generally employed.
Perhaps the town's key claim to fame though is that in 1616 Willem Corneliszoon Schouten, when rounding the southern tip of Latin America in atrocious storms, named the headland Cape Horn in honour of his home town. Seafarers the world over may therefore prefer to forget the name Hoorn as quickly as possible!