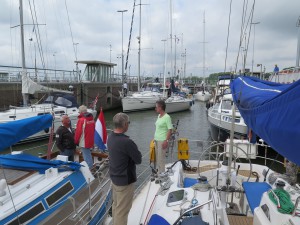 Amsterdam to Edam – 19.6 miles in 4 hours and 25 minutes
Anne and I headed out to the boat yesterday on the ferry an Derek and Adie joined us this morning on the early morning flight from Southend to Schipol. On arrival they were greeted with a coffee and then the engine being started more or less immediately with me being impatient to head off. The weather was fairly murky and cloudy, but distinct improvement on the heavy rain from last night, though it did gradually clear through the afternoon. We had a fairly slow passage through the Oranjesluizen and the Schellingwoude bridge, just missing both. The lock was quite a contrast from the previous occasion with around 15 boats compared to the previous three! As one of the first in, we were encouraged right up to the lock gate and boats then flocked in behind. One of the last in – a dutchman – came through the middle to moor right alongside us and after chatting briefly asked us very diplomatically whether we had just arrived from France. It took a minute or two to register that we had hoisted the French courtesy flag rather than the Dutch one! It was quickly substituted.
Once out of the channel we headed north towards Marken and hoisted sail – two reefs in the main (because they were already there!) and a few rolls in the jib. Under this comfortable (and restrained rig) we had a very gentle, but still fairly quick sail across to Marken point and then hardened up towards Edam. We had to make on tack to get across and after a brief 'fender overboard' exercise (not deliberate) headed in to Edam. We moored on the short-stay moorings on the starboard side as you head in.