Muiden to Amsterdam – 10.4 miles in 2 hours and 40 minutes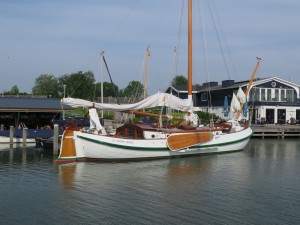 A return trip to Amsterdam today – time to head home this evening on the ferry and leave the boat in its new home in Amsterdam Marina. We left our berth at the Royal Dutch Yacht Club about 9am and headed back into Muiden to fill up with fuel. The tank took 71 litres. This is after 34 hours on the new engine, so around 2 litres per hour, though some of this has been easy on the engine (waiting for bridges etc). we then headed back out into the Ijsselmeer realising a little slowly that we were motoring past the Dutch Royal Yacht. De Groene Draeck (The 'Green Dragon') is a beautiful dutch barge and was built in 1957 in Amsterdam. She was given to the then Princess Beatrix (now former queen of the Netherlands) as an 18th birthday present and is apparently regularly used. There has been some discussion of the expense of maintaining her, but there seems to be a majority in favour of the yacht being kept. She is an example of a Lemsteraak. This is a traditional Frisian fishing vessel from Lemmer (hence the name!). The first Lemsteraak dates from around 1876 and they were originally just fishing vessels, but the wealthier elements of Dutch society quickly realised that they were perfect pleasure craft and they evolved with the highly decorative cabins and woodwork often seen today. They are also seriously raced with a crew of around 10 and competition is close. There are some great pictures on the YouTube video – Lemsteraak Plat. The high bow would have protected the crews as they fished the shallow and choppy waters of the Ijsselmeer and the Zuiderzee.
From Muiden we had a nice sail passed Pampus Island for a closer look and then back through the Schellingwouderbrug and the Oranjesluizen and down the Nordzeecanal to Amsterdam marina.