Amsterdam to Muiden – 10.6 miles in 2 hours 50 minutes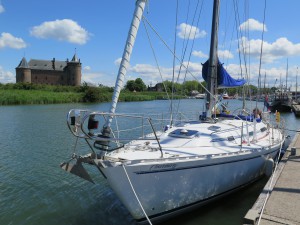 Having spent a little time trying to sort where the leak in the forward cabin was, and narrowed it down to the pole downhaul deck fitting, we decided that we needed some mastic. We had already tried the 'chandlery' in Amsterdam and found that to be useless, so we decided to head for Muiden in the Ijsselmeer. The pilot book promised us a nice little port and also a boatyard and chandlery. We left Amsterdam Marina around 11.30am, headed through the Oranjesluizen and bridge and then across to Muiden.
Muiden is a lovely little harbour with a castle directly opposite us. We moored in the KNZ and RV (The Royal Netherlands Sailing Club) marina – the same marina where the Dutch Royal Yacht is apparently based. We think it would usually be on the berth behind us, but they seemed to now we were coming and have moved elsewhere. The harbour is very quiet and with the castle directly opposite us, it is a great location. from our berth we are looking out directly past a partly wrecked square rigger – looking like a set from Pirates of the Carribean. Beyond that is s small fortified island called Pampus Island. It is an artificial island and was first built in the 19th Century as part of Amsterdam's sea defences. It was one of four forts designed to protect the port of Amsterdam. During the second world war the Germans used the island for target practice and in the bitter winter of 1944 during the war, the local people walked across the ice to salvage the wood from the fort to help them keep warm. The fort has been recently restored and we have spent the afternoon watching tripper boats going backwards and forwards past us to the island. It is possible to moor your own boat there to visit, but we will have to see if we have time to do this.