Luckily we weren't in a hurry this morning because the marina staff certainly weren't either. We moved round to the fuel berth around 09.45 but they were busy taking a boat out of the water. However, it seemed more of a reverse hokey cokey lift as they took it out, then in again, out then in again and then shook it about a bit (the owner was looking quite nervous at this point). Eventually they did get it out and on a cradle, but by then the woman in the office had come out to serve us with the diesel. The tank took around 50 litres, but the bill was one where you need to be sitting down before paying, so the least we might have expected was a receipt delivered on a silver platter! Still, at least we are now full of fuel again ….
Then we headed out and given the cost of the fuel we had just bought, hoisted the main within five minutes and turned the engine straight off. The course to Warnemünde was dead downwind and so with a nice F3-4 we did the trip under main only making nearly 6 knots over the ground all the way to the entrance channel to Warnemünde. There we dropped the main and motored in to the Rostock channel, closely followed by three ferries, a couple of tripper boats and a couple more yachts. We had planned to head right down to Rostock – partly because we wanted to see the town but also because a big blow was expected that night and it seemed like the most sheltered spot. So we headed down the river, past the ship – the Dresden. The Dresden is a class of ship known as Frieden (which translates as peace). It is not known if the name was meant ironically! The Dresden was the fifth of this class of 10,000 ton freighter which were built in the East German shipyards after the Second World War. She then operated until 1969 on scheduled services to East Asia, Indonesia, Africa, India and Latin America but in 1969 serious issues were discovered with the engine and it was simply wasn't viable to repair her so in 1970 she became the "Rostock Shipbuilding Museum" (Schiffbaumuseum Rostock).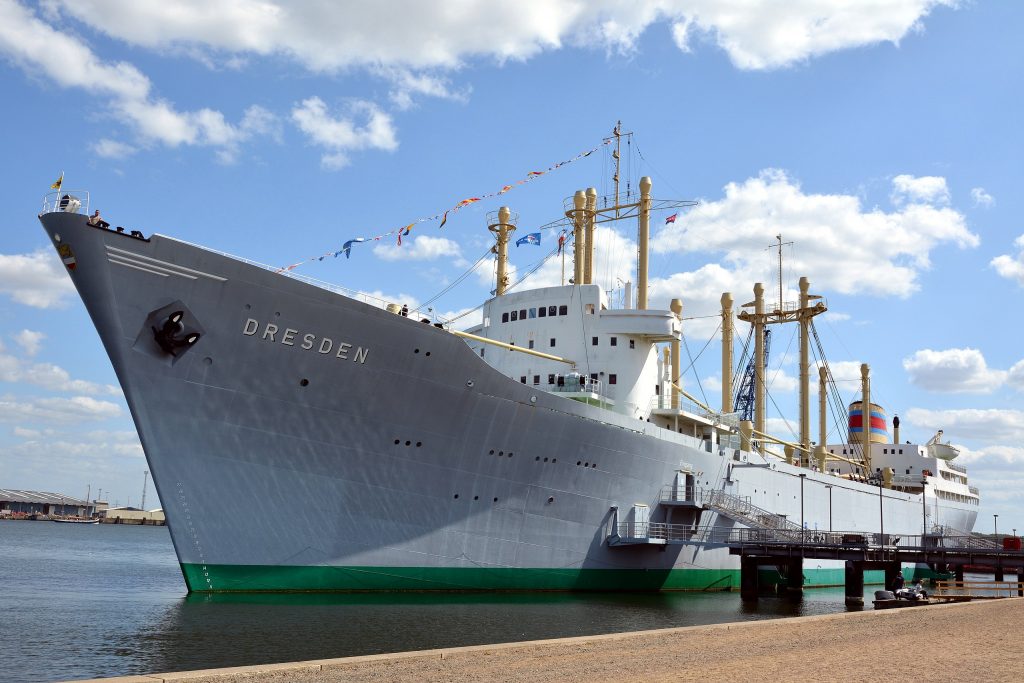 Once in town we moored in the Stadthafen Est having done 19.1 miles from Kühlungsborn. We moored alongside the end of one of the pontoons, but the very helpful harbourmaster seemed a little concerned about the weight of two large boats on the end of his pontoons with the strong winds coming, so he moved us into an inner berth – we were quite happy with this as it was much more sheltered.