A short journey today, but …. under sail for a change. The breeze was very light, but since we were only doing 10 miles we managed to potter most of the way to Nyköping under sail …. slowly. We are heading for there to pick up our next crew as it is probably one of the easiest places to get to from Stockholm. The name of the town – Nyköping – translates as Newmarket. The prefix Ny is translated as New and köping is an old Swedish word for a market place. A number of towns and cities in Sweden use this same suffix.
It is a lovely town with a mix of old and new. One of the 'old' elements is the castle which has a mixed history. They started building it in the 13th Century and by the next century it was one of the strongest fortresses in the country. The charming exterior though hides a darker secret – one worthy of any Nordic Noir series. In 1317 the Nyköping Banquet took place. The King at the time was King Birger, but there was something of a dispute going on between him and his brothers – Dukes Valdemar and Eric. The two brothers had previously staged a coup – pretty much a guaranteed way to cause a family dispute! The dispute was perhaps inappropriately named the Håtuna games. For Birger it wasn't much of a game as he ended up locked in the dungeon of Nyköping Castle following a fairly raucous party. Birger and his wife (Martha of Denmark) were captured by the dukes (his brothers), and imprisoned in the dungeon. Birger's son Magnus Birgersson, however, was rescued by a courtier and sent to Denmark. Birger ended up imprisoned for two years and it was only when the Norwegian king allied himself with the Danish king that a settlement was forced and he was released. Sweden was then split into three sovereign states with each brother getting their own state. This split worked for a while until, in the name of reconciliation, Valdemar and Eric were invited to Nyköping Castle for Christmas in 1317. Presumably they had a nice Christmas dinner, at least hopefully they did because that was the last meal the dukes ever ate. When they headed for bed Birger's soldiers captured them and imprisoned them in the same dungeon which Birger had been imprisoned 10 years earlier. They were left to die from starvation. After five weeks in the dungeon they drew up their wills and these documents still survive in the Swedish archives today.
However, it didn't all go Birger's way as the next year he had to flee from a rebellion. He headed initially to Gotland and then on to Denmark where he died three years later.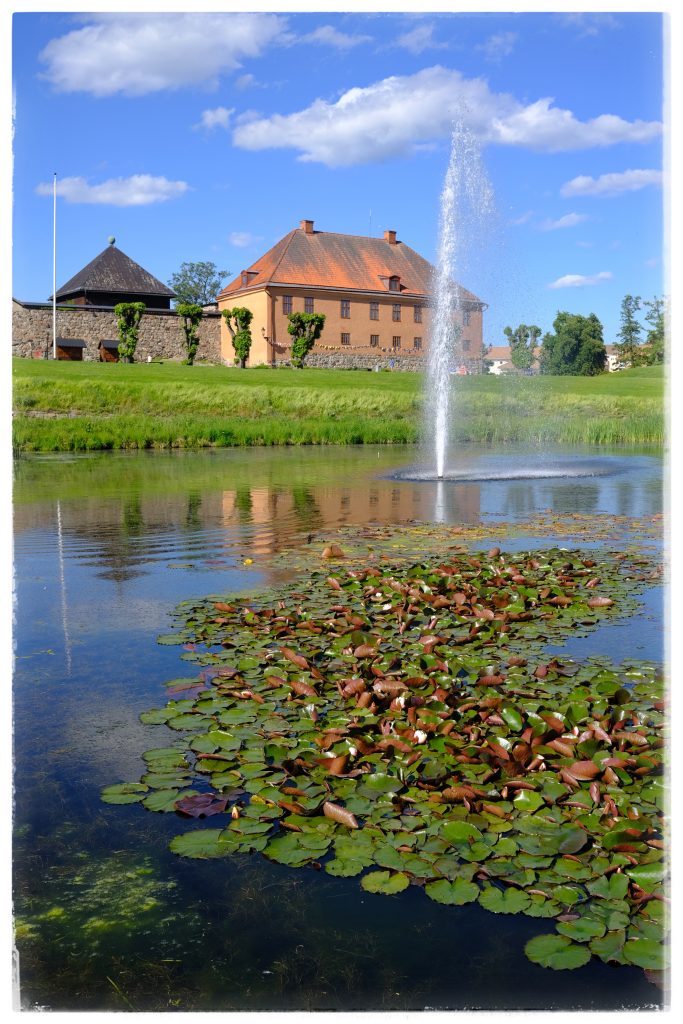 Saturday lunchtime Hugh and Liz joined us from the airport and we had a wander round the town – up to the old church tower and back through the town centre. On the way back we stopped at a cafe opposite the Sörmland Museum. We were surrounded by traditional houses with green roofs – all painted in the traditional rusty red colour called falu red. This is a paint colour derived from Swedish copper mines. It is made up of water, rye flour, linseed oil and tailings from the copper mines and can be seen on Swedish houses all over the country. This traditional ambience was then shattered by the more modern presence of Linda and Lina – the band booked for the night. In an apparently bizarre combination, songs from Linda and Lina seemed to alternate with quiz questions which a lot of people around us were clearly taking very seriously. Given the clash of modern and traditional we found it difficult to take anything seriously at this point, though that mood may also have been influenced by the strong Swedish beers ….