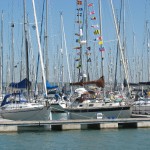 In Gosport we berthed in the Royal Clarence marina. This is a Transeurope marina and is based in a new development in what used to be the Royal Clarence Victualling Yard. The Royal Clarence Victualling Yard was set up in the early 1830s as an expansion of the Weevil Yard. This was perhaps slightly too honest a name for a yard that produced ships biscuits – biscuits that were generally full of weevils by the time the sailors got round to eating them. The yard was renamed after the Duke of Clarence when it was expanded to become the main victualling yard for the navy at Portsmouth. The yard had its own mill, bakery, slaughterhouse and cooperage – buildings which are still there and have been very sympathetically restored.
The yard was designed by architect George Ledwell Taylor and finished in 1832, four times over budget at a cost of £200,000. It seems that not everything has changed! The yard evolved over the years adapting the technologies of the time to supply the Navy. In the 20th century, freeze drying, refrigeration techniques and experimental methods of food preservation were also pioneered at the Royal Clarence Victualling Yard. The yard was badly bombed in WWII, but still managed to supply the D-Day armada as it assembled at Spithead. It was used mainly for storage after WWII as ships were fitted with refrigeration units, but continued to supply the Navy right through to 1970 when it officially closed. This was the same year that the Navy officially ended its tradition of rum rations.
The yard sprang back to life during the Falklands war, but was closed again shortly afterwards. The redevelopment started in 2001 and is still continuing.
Next door to the Royal Clarence Yard over the Millenium Bridge is Priddy's Hard. This was a Board of Ordnance facility and was created in 1777. This facility was the first time that Britain had separated its gunpowder stores from its ordnance stores – something that seems eminently sensible! The Grand Magazine at Priddy's Hard was designed to store 4,500 barrels of gunpowder. It was developed throughout the 19th & 20th centuries as part of the Royal Naval Armaments Depot and various ammunition was tested and manufactured there. As a facility it produced millions of armaments for the Normandy invasion forces of 1944 and employed upwards of 3,000 women on dirty and often dangerous work. In the pavement as part of the development is a tribute to these women and their 'yellowed hands'.