Lelystad to Amsterdam – 24.9 miles in 6 hours 5 minutes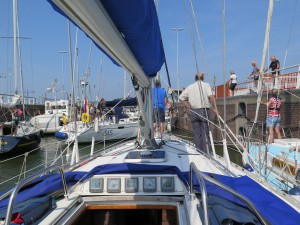 A trip of two halves today … Leaving Lelystad around 7.40am we had a lovely sail under jib only back across to Amsterdam. The wind gradually built from the NE and slowly went E giving us a broad reach across towards the Nordzeekanaal. As we approached we reckoned we might just make the midday bridge opening as we saw it go up ahead of us, so under jib and engine for the last 10 minutes we headed towards the bridge at 7.5 knots and just slipped through as the last boat. Any feelings of smugness about managing that though soon vanished as we had to wait 20 minutes for the Oranjesluis and all the boats from the next bridge opening converged on the lock as well.
Then the second half began … With the Dutch boats treating queues in a most un-British way we headed into the lock trying to avoid the queue jumpers. We successfully avoided the carnage in front as a Dutch boat failed to get a stern line on and ended up across the lock. The next boat barging in ended up alongside him across the lock. We then did the proper British thing and quietly avoided it all by tying alongside a friendly old couple on a Westerly and just watched. Once it was all sorted, the lock keeper asked us to move alongside the boat in front which was now alongside, which we managed … sort of. Once out of the lock we breathed a sigh of relief and headed for Amsterdam. We thought about filling up with fuel, but the fuel berth was really awkward to get alongside and even worse to get off, so once again, avoidance seemed the solution for a quiet life.
Once we got back to Amsterdam marina, we headed for the pump-out only to find that the marina had been breeding while we were away and a new baby marina had sprouted up where the pump-out used to be. A marina workboat told us where it had been moved to, but with a strong Easterly pushing us straight onto the pontoon, I managed to give a demonstration of how not to come alongside, followed by an ever better demonstration of how not to leave a leeward berth. Glad to at last be heading round the corner to our berth, I turned, only for Andy to shout to me to stop. Where the gap used to be was now pontoons – more marina breeding had taken place. Apparently for Sail Amsterdam, they will be using the outer breakwaters and so needed to connect them to the shore. I was relieved to finally be in our berth, though even our neighbours had changed in our week away!