Amsterdam to Lelystad – 20.6 miles in 6 hours 25 minutes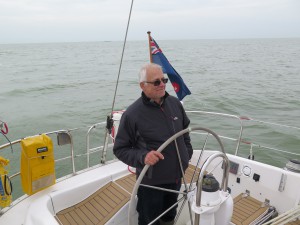 A nice relaxed sail today. We left Amsterdam around 10.30am after stocking up. We finally found the supermarket nearby – turns out there is a small food section in a Hema store just round the back of the next door office building. So, all those times we walked 25 minutes each way to get to the Albert Heijn ….! Once through the locks and bridge (nice and quiet for some reason!) we had to cross a fleet of around 50 or so traditional Dutch boats all racing around Pampus Island. With the wind from the SE I decided to head for Lelystad to keep the wind on the quarter. Within an hour, the wind had gone more into the SW, so we ended up nearly running. However, with around 10-14 knots of breeze we kept a nice average of over 4 knots and it was very relaxing.
We made Lelystad just before 5pm and had time for a wander round and a look at the Batavia and the Seven Provinces before it got dark. With only five boats on our pontoon it was quiet and two were British. The other British boat is apparently based in Monnickendam, so we aren't the only ones daft enough to be sailing in October.