Hindeloopen to Hoorn – 28 miles in 8 hours 20 minutes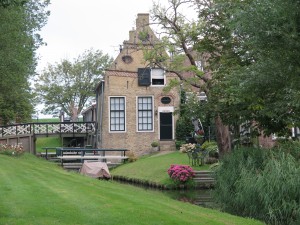 The forecast for today remained light, but with around 7-8 knots of breeze as we left Hindeloopen we were confident of sailing. The confidence was slightly misplaced as the breeze died, but we stuck with it and helped by occasional gusts of up to 9 knots (!), we made it across to Enkhuizen. The forecast had led us to believe the wind would then go into the NW and we came out of the lock expectantly into a SW. We debated for some time, having no idea what the wind was going to do, whether to head across to Lelystad or to Hoorn as we had originally planned. So, covering our options, we did a short tack out to the south – that way we could either tack to Hoorn or bear away to Lelystad. Eventually we decided on Hoorn and the wind promptly went round to the NE. We found ourselves running goosewinged towards spinnakers coming out of Hoorn – a really wierd day.
We sailed to within a mile of Hoorn, so we managed to sail most of the day, but with an average speed of 3.4 knots it was a slow day. Considerably better than motoring though.