Enkhuizen to Hindeloopen (via Stavoren for lunch) – 15 miles in 6 hours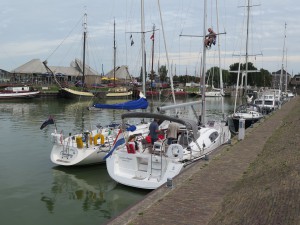 Another hot and light wind day today – something has clearly gone wrong with the weather! As John arrived last night, we had a wander round Enkhuizen for an hour or so this morning before we left. We were hoping as well for the breeze to fill in, but perhaps we were expecting too much. So, it was a motor for a couple of hours across towards Stavoren. As we were going close past, we decided to poke our nose in and have a look. Since there was a nice berth next to a Beneteau 43, we stopped and had some lunch followed by a quick wander round the town. A nice town with loads of ferries, charter boats and a large river cruiser coming in, but there din't seem to be that much there.
As we were about to leave John, perhaps slightly flippantly, suggested we could sail off. With a nice gentle breeze off the starboard beam, I decided to take him literally, so rolled out the jib, backed it and swung her round (very slowly) and out through the pierheads. I am sure the Dutch would have been very impressed if any of them had been watching! Outside the harbour we hoisted the main and sailed very gently goosewinged towards Hindeloopen at a stately 2.5-3 knots. A nice peaceful end to the day. Getting into Hindeloopen was less peaceful. I had rung them to ask for a berth and we were told to stop at the fuel berth and see the Harbourmaster to be allocated a berth. This would have been fine if there hadn't been a queue for the berth and a very tight entrance space – not helped by a 40 footer barging past into the berth I was after. However, we got a berth fairly easily and, despite it being a box berth, made a good job of getting into it. We are learning the technique now.