Enkhuizen to Muiden – 23.5 miles in 5 hours 35 minutes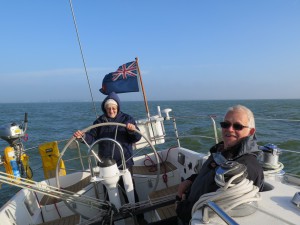 With a South Easterly forecast we decided to get ourselves closer back to Amsterdam today, so we headed straight down the Markermeer to Muiden. After filling up with fuel at Enkhuizen, we headed back through the lock and with around 15-17 knots of breeze we were on a close reach under full main and two-thirds jib across towards Marken. The breeze slowly died and in the end, just beyond Marken, it went to under 4 knots, so the engine went on. However, within 15 minutes it was back again with a very pleasant 10 knots of breeze, so we managed to sail nearly all the way.
In Muiden we moored in the Jachthaven Stichting Muiden – on the left just after the castle – a really delightful marina. Though very small, it is really well equipped with lovely toilets and showers – all included in the price along with the electricity. With the Muiderslot Castle in the background, it is a lovely setting. The castle dates back originally to 1280 when Count Floris V built a castle at the mouth of the River Vecht (Muiden means 'mouth'), but by 1300 it had been razed to the ground. It was then built in its current form in 1370 and had a varied history which almost ended when it was left derelict in the 18th century after being used as a prison. It was rescued following an intervention by King William I and finally restored at the end of the 19th century. It is now a Dutch National Museum and part of the Rijkmuseum.