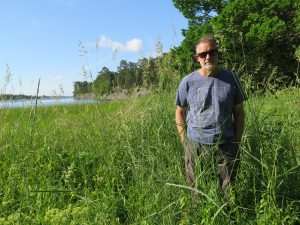 Today was another fairly short run. We left Harstena around 9.40am after an early morning walk and a swim back to the boat for Anne. Initially we had to motor to get back to the main inshore passage, but once heading back north, we managed to sail for a while. However, it was one of those frustrating days where the breeze flicked in and out, but mainly out, so we ended up motoring for quite a bit of the trip. We arrived at Arkosund around 2pm.
The marina was in 'summer mode' – manned by students who came out in a RIB to escort us into our berth. The berths were bow to, with a mooring line which the staff helpfully lifted for us, so that we could grab it with a boat hook.
Arkosund itself was lovely with some interesting architecture, though it is clearly once again, just a summer resort. The marina is a little exposed, but it was a calm evening and generally quiet – apart from the TSC rally. We also grabbed the opportunity to do some washing, only to find that the machine took over an hour and a half just to do a 40 degree wash.
For the evening we went out for a meal as it was Jilly's last evening with us.