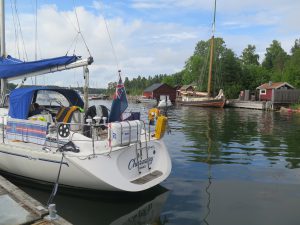 A change of plan (again …) today. The weather forecast was not great for crossing between Aland and Stockholm over the coming few days, so we decided to head over to Stockholm a little earlier than anticipated. The weather looked OK for a crossing, so we decided to bypass Mariehamn and head straight from Kastelholm across to the archipelago. We hadn't decided an exact destination, but had a few in mind depending on the pace we made. We started at around 5.50am as we wanted to be at the Lemströms Canal bridge for its first opening at 8am. It only opens hourly for around 10 minutes, so we wanted to get started on the passage across as early as possible. The first hour or so was miserable in heavy rain and poor visibility, but it gradually cleared. We were actually at the canal about 20 minutes early, so had to wait for a while. Once through the canal, it takes about another hour and a half to get round the south of the islands and to be able to set off south west across to the northern archipelago.
We started off well with a lovely breeze on the beam and sailed for around two and a half hours, but the wind then started dying, so we pulled the jib in and motorsailed for a while. Looking ahead it looked black and ominous, but this should have been going away from us according to the forecast. The weather itself decided to be a lot more perverse and in the course of five minutes, the wind went round 180 degrees, blew right up to around 17-20 knots and started chucking it down with rain so hard that it was difficult to see at all. Thankfully this only went on for 40 minutes or so, but it was pretty miserable. Gradually visibility cleared, which was relief as we were coming in through the main ferry channel to Stockholm. We then carried on to Blidö – a small guest harbour which was a lovely location, but quite expensive considering there was no water, no electricity and fairly basic facilities. It would have neverthless been quite nice had it not been for the Swedes at play – another noisy night.
In total we did 62.1 miles in 11 hours and 25 minutes.