One of the issues with deciding to start each post with an alliteration is that place names in some countries start with weird letters. Sweden is a case in point with lots of place names starting with 'k'. English verbs starting with 'k' on the other hand are few and far between with some – kidnapping, keening and kicking for example – being totally inappropriate! So, today we went 'knocking' on to Kalmar. In some ways this was quite an appropriate verb given the weather. We left Kristianopel quite promptly as a little well was starting to get into the harbour. The one direction it is a little exposed in is easterly winds and that was what was blowing this morning. As soon as cleared the moles protecting the harbour we started bouncing, so getting the main up was a challenge. The sea had quite a fetch and seemed to be kicking up a bit in the shallow and narrow channel into Kristianopel. However, as soon as we got it up and could bear away, we took off. With full main and around half the jib we were doing 7 knots in a wind gusting to about 15-17 knots much of the time. The wind was a little north of east, so we were on a close reach and storming along …. The wind did drop a little a couple of hours later, so we pulled the rest of the jib out, but maintained a really good pace – cracking sailing (though thankfully not literally …!).
We moored in Kalmar having done 28.8 miles in 4 hours 50 minutes – not bad. When we went to pay for the berth at the tourist information office, it turned out that we had arrived on Swedish National Day. This is always celebrated on June 6th each year and, up until 1983 was known as Swedish Flag Day. The Swedish Parliament changed the name in 1983 to Swedish National Day. On the evidence we saw, it should still be called flag day given the number of people waving plastic Swedish flags on sticks – we still have three on board and I am fairly sure they will last through to next year's National Day. One of the squares in Kalmar was the focus of the celebration for the town and so we headed down there. It started ominously with a juggler who was juggling to Elvis songs, though he did keep dropping things which was perhaps more symbolic of British politics and Swedish politics. He then came out on stilts to hand out more plastic flags just in case there weren't enough.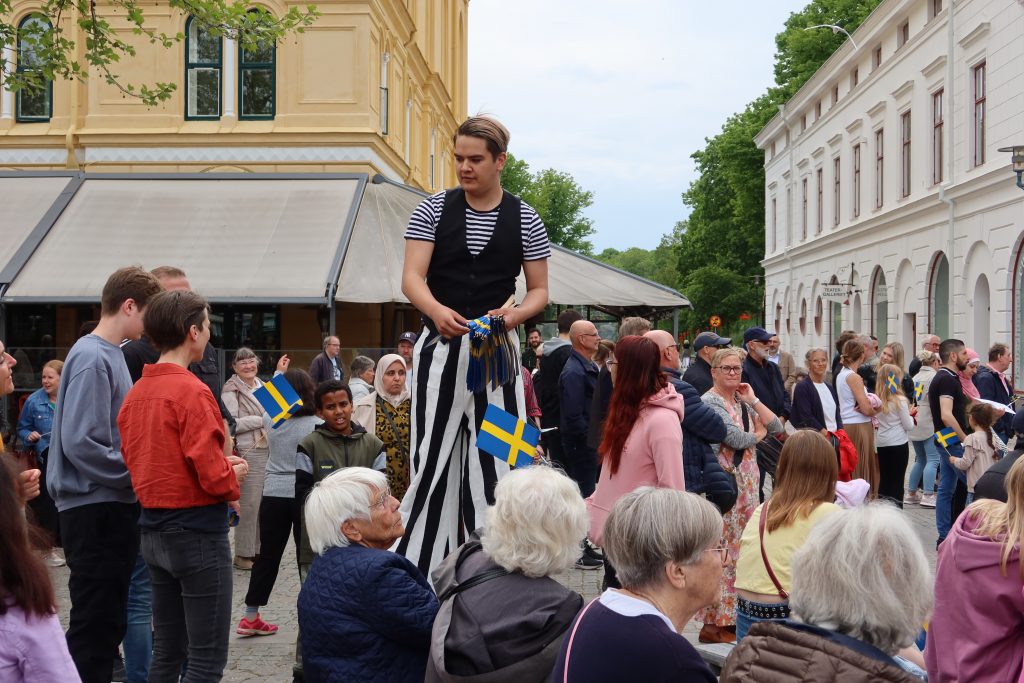 The tradition of celebrating National Day apparently began in 1916 in honour of the election of King Gustav Vasa on 6 June 1523. This is the date which is considered by some as the foundation of modern Sweden though because some questioned it being a national holiday, it didn't become one until decades later. The date though does mark the end of the Danish-ruled Kalmar Union, so in some ways it does mark Swedish independence.
The juggler was clearly a build up for the main event – a speech by the Mayor of Kalmar. We knew he was the Mayor because of the weight of metal dangling round his neck, though we didn't understand much of what he said anyway. We weren't sure how much the audience heard either given the monotonic delivery – certainly his career as a motivational speaker was dead in the water. He got a polite round of applause at the end though allowing the massed choir (well 20 or so of them) of Kalmar Primary school and the retired naval officers band to finish things off.