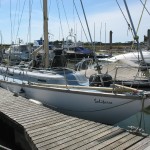 It has taken me a while, but I noticed this morning that I was moored in Lymington opposite a famous, or perhaps more accurately an infamous boat. She is called Solitaire of Hamble and is Bruce Roberts 34 owned and built by Les Powles. He still lives aboard her in Lymington Yacht Haven. He built her in 1975 and with hardly any sailing experience set off and since then has sailed round the world in her 3 times.
In 1996, while on his third circumnavigation, he was thought to be dead. No-one had heard from him for four months after he set sail from New Zealand and he amazed everyone when, without notice, he sailed back up the Lymington River to his home berth. He was very thin having survived for several weeks on a diet of a quarter of a tin of corned beef and a few spoonfuls of rice each day. He had to catch rainwater for his drinking water. In recognition of his achievement he was given a free berth for life by Lymington Yacht Haven and at the age of 87, he still lives on board her.
Chatting to him, he did say that he hasn't been able to sail for a while, but he still loves living on board. He has published two books of his trips – one is called 'Hands Open' which he gave me a signed copy of and the other is called 'Solitaire Spirit'.
His achievements have resulted in him being awarded the Yachtsman of the Year Award in 1981 and the Ocean Cruising Club's Award of Merit in 1996. A remarkable character.