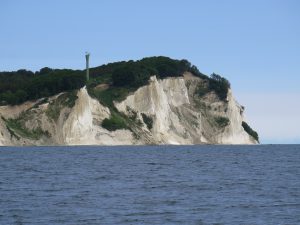 A very relaxing trip today – Klintholm to Rodvig (24.8 miles). Warm and sunny – the only thing missing was the wind, so it was the job of the iron topsail to get us to Rodvig today. However, it was a very pleasant trip and initially took us past the 'White Cliffs of Mon' (Mons Klint). These cliffs are one of the highest points in Denmark and are chalk cliffs which emerged after the last ice age. They form part of the same deposits as the cliffs at Rugen in Germany on the other side of the Baltic. The chalk forming the cliffs consists of the remains of shells from millions of microscopic creatures (coccolithophores) which lived on the seabed over 70 million years ago and the terrain was compacted and forced upwards by glaciers moving westwards.
Once past the cliffs we headed straight across the bay to Rodvig – a very pleasant little fishing harbour. It seems to be a tourist destination for the Danes with further cliffs and formations round the corner at Stevens Klint and it is a popular place for the Danes to have holiday homes. It also seems something of a magnet for bikers – both petrol heads (there was a group of Harley Davidsons and other classic bikes when we arrived) and the push bike variety, as it sits on the Berlin to Copenhagen long distance cycle track route. The harbour is quite central and is something of a focus for the town in contrast to the last few harbours we have visited. Right in front of the boat was a large outdoor chess game. In a rash moment I challenged Ric to a game. This merely showed that my chess skills are right up there with my DIY skills. Still at least it was a diversion for a few minutes …
Close to the marina is an unusual tower which they have described in the translation on the board as a flint oven and close to this is a surreal art installation. Rather than trying to describe it, the picture below perhaps shows it best. The suggestion appears to be that the Vikings may actually have invaded in caravans rather than boats as is more commonly thought.