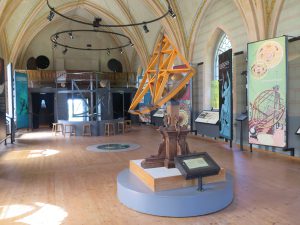 We started with a leisurely morning. We had decided that we would go to the Tycho Brahe museum on Ven and that didn't open until 11am, so we headed up there mid-morning. It was a lovely walk to the museum – around a mile and a half – and showed the Swedes at play. Ven is very much a tourist destination for the Swedish and during the walk we saw around 5 cars and around 150 bikes. A perfect balance …
The Tycho Brahe museum was excellent. It was apparently nominated for the museum of the year award in 2007 and though it was very small, we could see why. There were various exhibitions explaining the importance of Brahe. He worked in an era before telescopes and developed some of the most sophisticated measurement tools of the era. He was given Ven as a fiefdom by the King of the time and this enabled him to employ 15 assistants to help with all the measurement. He even built an underground observatory to avoid the instruments being affected as much by the weather. Little is left of his castle or observatory, but in the remains of the observatory was an excellent sound and light show explaining his work. One of his assistants was Kepler who went on to use Brahe's observations to develop Kepler's three laws of motion. These eventually led to Newton being able to develop his theories. Disappointingly though, the museum didn't explain anything about Brahe's nose, so we still don't know how he smelt ….
After lunch we headed south and, not surprisingly, the wind was from the south, so we had to beat all the way to Flakfortet. It was a lovely sail with a force 4 gusting 5, but the shallow waters of the Oresund kicked up a short chop making progress a little slow at times. We got to Flakfortet around 6pm having done around 21 miles for what should have been a 13 mile trip!
Flakfortet is an unusual spot. It is a small fort off Copenhagen and was built between 1910 and 1914. It was used for military purposes (mainly anti-aircraft and other guns) until 1968. The government hung onto it for a while and in 2001 it was bought up and redeveloped into a destination for tourists. There is now, as well as the yacht berths, a restaurant and slightly more bizarrely, a mini-golf course. The fort also run events like a classical music festival and they have even just created a helipad – a sign of the time perhaps. We paid our harbour dues to the owner who is Swedish, works in Denmark and manages the island during the evenings before returning to Sweden by boat at night. He is looking to sell the island, so if anyone fancies buying a First World War fort, he is your man! It is an intriguing place and the barracks apparently used to house around 550 men which would have been very cozy. It is a great place to come and a very sheltered harbour.